---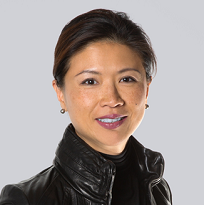 Ai Lin Toh
Executive Director of Supply Chain Solutions
Ai Lin Toh is Executive Director of Supply Chain Solutions. She leads Supply Chain Solutions for the Children's Wear Platform.
Previously she was Executive Director of Business Development where she led strategic business development and is focused on driving growth and synergies across Li & Fung at a global scale.
Ai Lin is a highly experienced supply chain manager, network orchestrator and innovation catalyst. With over 25 years' experience in change management, strategic sourcing, supply chain management and merchandising, Ai Lin joined Li & Fung in 2003.
She previously held senior roles in international companies including Smart Shirt Hong Kong, R-Pac International, Esquel Apparel and Tommy Hilfiger.
Ai Lin holds a Diploma in Business Administration from Singapore Polytechnic where she majored in Marketing.