---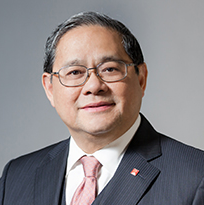 Victor Fung is Honorary Chairman of Li & Fung Limited and Chairman of the Risk Management and Sustainability Committee.
Victor joined Li & Fung in 1973, became Managing Director of the Group's export trading business in 1977 and Group Chairman in 1989. He stepped down as Group Chairman in 2012.
Victor is non-executive director of Convenience Retail Asia Limited, a company within the Fung Group. He is a director of King Lun Holdings Limited and Fung Holdings (1937) Limited, which are substantial shareholders of the Company. Since July 2015, Victor became chairman of the Advisory Board of the Asia Global Institute at The University of Hong Kong, a multi-disciplinary think-tank to assume and carry forward the mission and operations of Fung Global Institute, of which he was a Founding Chairman from 2010 to 2015.
He holds Bachelor's and Master's degrees in Electrical Engineering from the Massachusetts Institute of Technology, and a Doctorate in Business Economics from Harvard University.
He was previously chairman of the International Chamber of Commerce ("ICC") and vice chairman of China Center for International Economic Exchanges. He was a member of the Chinese People's Political Consultative Conference from January 2003 to January 2018. He was appointed as a member of the Chief Executive's Council of Advisers on Innovation and Strategic Development in March 2018. Victor also serves as Chairman of the Steering Committee on the Hong Kong Scholarship for Excellence Scheme and adviser of Infrastructure Financing Facilitation Office of The Hong Kong Monetary Authority.
Victor is an Independent non-executive director of Chow Tai Fook Jewellery Group Limited (Hong Kong) and Koç Holding A.Ş. (Turkey). He was a non-executive director of Trinity Limited (December 2006 – August 2018).
In 2003 and 2010, the Hong Kong Government awarded Victor the Gold Bauhinia Star and the Grand Bauhinia Medal respectively for his distinguished service to the community.