---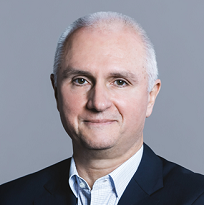 Gilles Fries
Executive Director, Supply Chain Solutions
Gilles Fries is Executive Director of Supply Chain Solutions. He leads Supply Chain Solutions overseeing all business-related activities for shoes and accessories.
Gilles joined Li & Fung following the acquisition of CGroup in 2007. Since then, he has held senior positions in LF Beauty, LF USA Sourcing and GBG Sourcing.
Gilles has more than 35 years of experience working in retail, buying and worldwide sourcing. Prior to joining Li & Fung, he was the Managing Director of Andre, the buying office in Hong Kong for the French retail group, Vivarte.
Gilles holds a bachelor's degree in Business Management from Ecole Supérieure des Sciences Commerciales d'Angers (ESSCA) in France.