---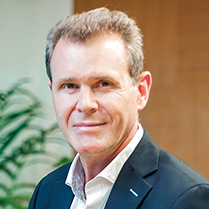 Sinclair, Rob
President of Supply Chain Solutions
Robert Sinclair is one of the three Presidents of Supply Chain Solutions leading SCS2. He oversees all business related activities for apparel, footwear and hard-goods, as well as sourcing and general merchandise.
Robert joined Li & Fung in 2011 as Executive Vice President of Lifestyle Brands business unit and was promoted to Chief Operating Officer for LF Sourcing in 2013.
Prior to that, he held senior positions in various capacities with VF Asia Ltd, the global procurement business unit for VF Corporation based in Hong Kong, and Ralph Lauren Corporation.
Robert also founded Hong Kong-based agency business KOMPASS Global Sourcing Solutions Ltd. from 2002 to 2009, which services design-driven, value-added clients. He started his career in the sourcing industry in 1986 with a Hong Kong-based agency, Colby & Staton Fashions Limited.
Robert is the Chairman and founding member of Global Apparel Footwear and Textile Initiative (GAFTI). He is an active member of The American Chamber of Commerce in Hong Kong and serves as an advisor to the Asia Industry Advisory Network for the College of Textiles, North Carolina State University.
Born and raised in Canada, Ottawa, Robert holds a Bachelor of Arts Degree from Carleton University in Canada and has lived and worked in Hong Kong, Singapore and New York.