Suppliers
Working with suppliers
We focus on capacity building to enable our suppliers to better manage their factories.
Sustained change in our industry takes time and investment. As a leading supply chain solutions and logistics solutions company, we support our suppliers to improve factory working conditions to meet ever-changing industry expectations.
Our assessment, technical support and capacity-building efforts focus on establishing better-managed factories and better working conditions. We believe that to achieve sustained change in the supply chain, it is essential to support factories to raise compliance standards and ensure that factories have the information and training to build their capacity to integrate social and environmental best practices into their day-to-day operations. Building capability across our supplier base helps raise compliance standards in the industry.
Supplier monitoring process
To stay abreast of changing industry and regulatory requirements, Li & Fung continually engages directly with policymakers and participates in a number of industry consortiums that contribute to the development of relevant standards and norms.
At Li & Fung, supplier risk assessment starts with our Supplier Code of Conduct. This is our supplier engagement document and it outlines the minimum standards required in accordance with the ILO's Core Conventions, the California Transparency in Supply Chains Act, the UK Modern Slavery Act and local laws, for human and labor rights, safety, environment and security, as well as transparency and ethics. All suppliers must accept these minimum standards as a condition of doing business with us.
The Supplier Code of Conduct is supported by a package of information available in multiple languages, including Guidelines on social, environmental and security standards as well as practical resources for implementing standards within factory operations. Globally, we offer regular onboarding training to new factories and our own business units to ensure they understand the Code of Conduct and the consequences of non-compliance.
Download the Supplier Code of Conduct in your local language.
Compliance against the Supplier Code of Conduct is assessed by Li & Fung, external audit firms approved by us or our customers, or independent industry organizations. When non-compliance issues are identified, the factory is required to commit to rectifying the issue through a Corrective Action Plan, with varying timelines for remediation from immediately to three or six months, depending on the severity of the issue.
Key elements of our factory engagement, monitoring and services are outlined below.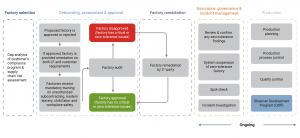 The diagram below illustrates the complete risk management cycle: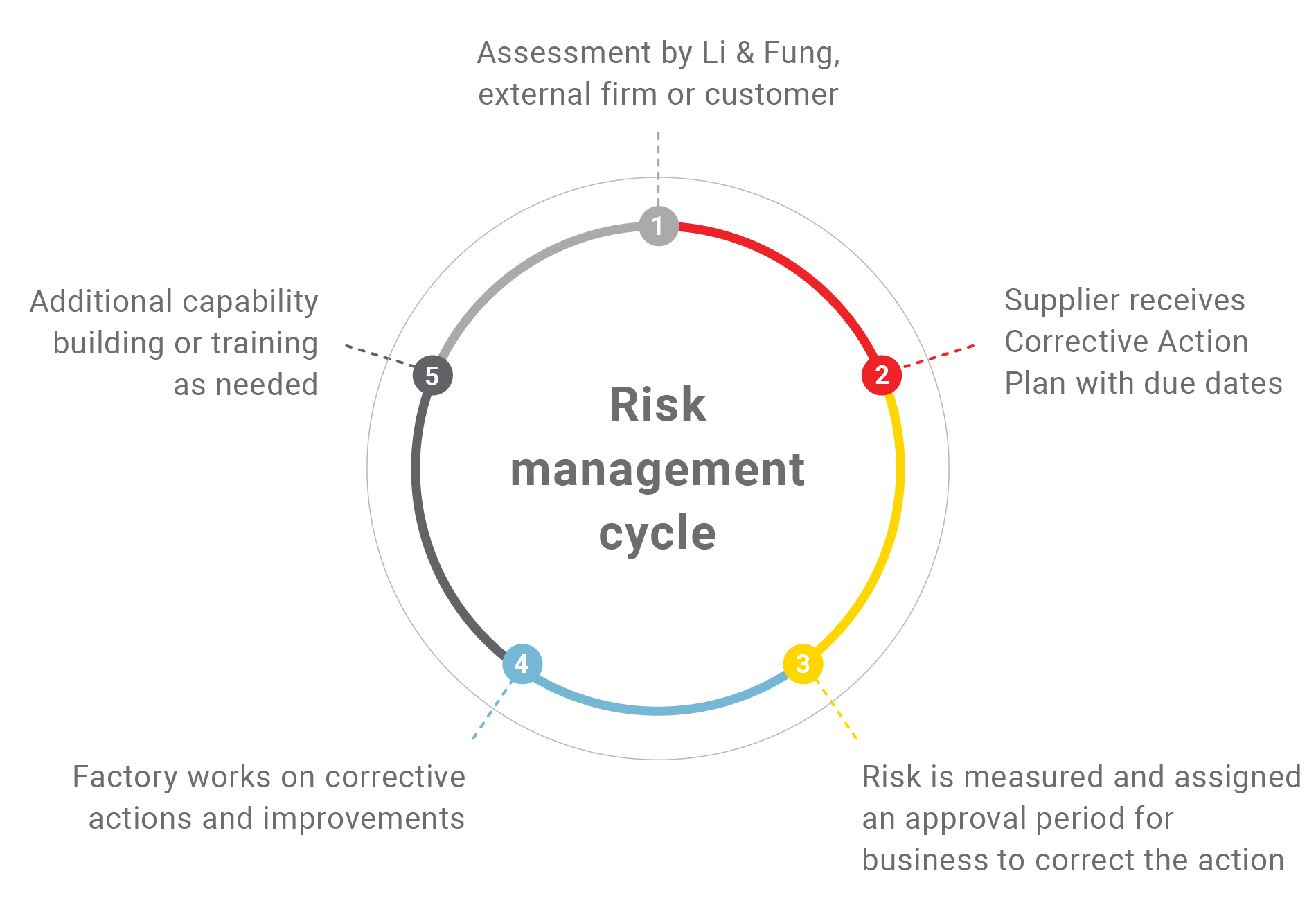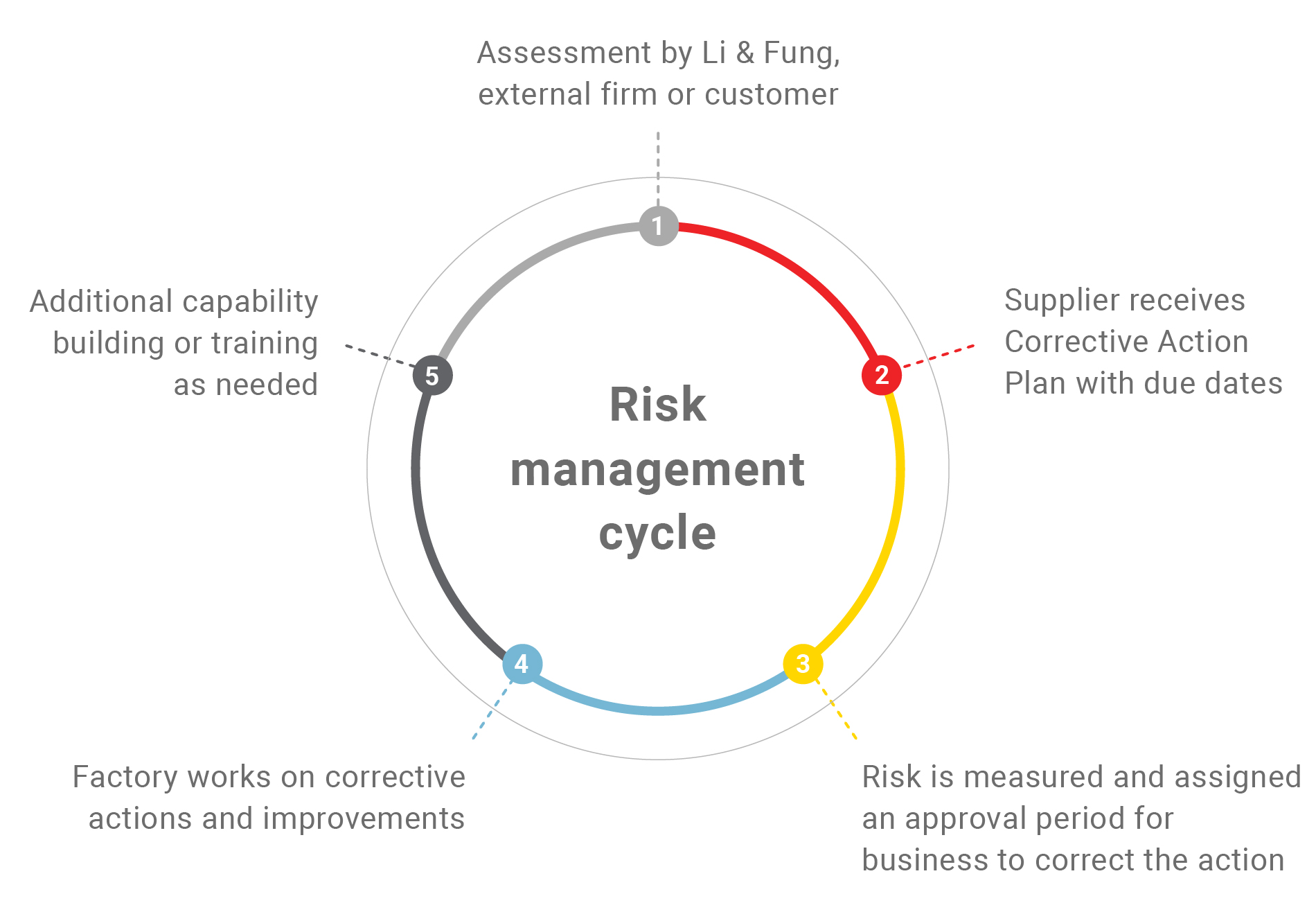 Li & Fung is committed to upholding internationally recognized human rights and labor standards in our own operations and across our supply chain and proudly supports the International Labour Organization's (ILO) Declaration on Fundamental Principles and Rights at Work and the United Nation's Universal Declaration of Human Rights.  
Our Disclosure Statement on Modern Slavery discloses our policies and actions relating to modern slavery and human trafficking in business and the supply chain. You can also read our previous statements from  2022, 2021, 2020, 2019, 2018 (July) and 2018 (March).  We also acknowledge our responsibility to maintain a respectful workplace that is free of all forms of discrimination or harassment.
The Li & Fung Child Labor Policy complements the requirements set forth in the Supplier Code to ensure that Li & Fung's supply chain is free from forced, trafficked and child labor and in compliance with local and national laws / regulations, the ILO's Core Conventions, and other relevant international standards. Suppliers must comply with the Policy as a condition of doing business with Li & Fung.