---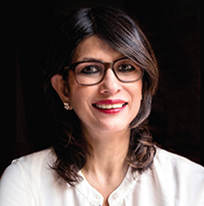 Deepika Rana
President of Supply Chain Solutions
Deepika Rana, President of Supply Chain Solutions, is responsible for managing customer relationships, building strategic goals, driving business growth, managing the profit and loss and driving synergies across Li & Fung as well as introducing value-added strategies to Li & Fung's customers and vendors.
Deepika joined Li & Fung in 2003. She was promoted to Executive Director – Indian Subcontinent & Sub Sahara Africa in 2014 and oversaw US$2.2 billion in turnover across nine production countries.
Deepika has extensive experience in strategic sourcing and operations having begun her career in J.C. Penney Purchasing Corporation. Prior to joining Li & Fung she was the head of May Department Stores International Inc. India liaison office.
She holds a Master of Arts degree in Business Economics from the University of Delhi in India.